Our Military Families Keep Us Safe; Shouldn't We Help Them Keep Their Kids Safe?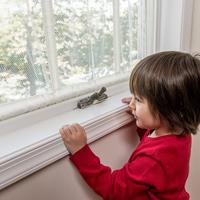 We appreciate the men and women in the military for all they do to protect our freedom and security. So why wouldn't we do everything in our power to help protect their kids? My time as a Public Policy intern at Safe Kids has been very diverse, but my favorite task has been looking up legislation and writing letters of support for the bills we support. We recently supported a bill called Evan's Law that requires all military housing to have window guards installed. The bill was introduced after a five-year-old boy named Evan, whose parents were stationed at our Pearl Harbor naval base, fell from a window and died.
We established contact with the bill's sponsor, Rep. Mike Turner of Ohio, to see how Safe Kids could help turn the bill into law. In addition, we don't want to stop at just window guards as there are so many other risks confronting kids in homes.
We would like to expand safety in military housing even further and we have a few ideas. A fellow intern, Ashley Hunt, worked in the Global Network department and developed an informational toolkit on how to work and partner with people on military bases regarding child safety. Ashley, a proud, self-described "army brat," had a ton of experience and information to guide her in the development of this toolkit.
Hours before I left Washington, D.C. for my home in North Dakota, Ashley and I met with Rep. Turner's Defense Fellow Jonathan Wagner, a member of the Marine Corps. He worked with the congressman to successfully include the bill in the FY2018 Defense Authorization Act. When I met with my state's senators, John Hoeven and Heidi Heitkamp, and our congressman Kevin Cramer, I lobbied them on Evan's Law as well.
Child safety is a concern in family homes all over the world, but military bases are a good place to start. Many different families live in these homes for short periods of time and it's our job to help keep their kids safe. Installation of window guards in military housing is just the first step in creating a model safety home. If you have any questions or would like more information about this important issue, please contact [email protected].