ReTrain Your Brain with These Important Railroad Safety Tips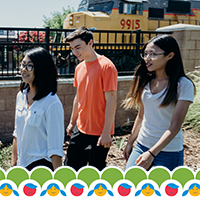 In our last pedestrian safety blog, we reviewed basic safety tips for common outside activities like walking around the neighborhood, crossing the street and riding bikes. In some neighborhoods, walking or riding bikes might also take place near train tracks. Even though many cities are in a virtual lockdown, railroad employees are still "essential" and are dedicated to bringing many of the items needed most in our communities to local distributors and grocery stores.
So, if your outside time might include time near train tracks, it's important to remember trains are big, quiet, fast and can take a mile to stop. Please remind kids to stay safe around trains with these 3 tips:
Cross the tracks only at places marked by a railroad crossing sign, lights or a gate. And look both ways before you cross.
Wait for the train. When lights are flashing or the gates are down, wait for the train to pass. Even if you are in a hurry, don't try to beat the train by rushing across the tracks.
Don't play around or walk along train tracks. Trains are at least three feet wider than the tracks on either side so even if you are beside the tracks, it is still dangerous.
See our other blogs on how to help keep kids safe during the coronavirus pandemic. If you have a question for one of our experts, please email Gary Karton at [email protected] and we'll include it in a Q&A to help you and other caregivers.