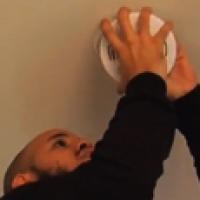 It's that time of year again. The clocks go forward, the days get longer and families get an extra precious hour of daylight. Daylight Savings Time is also a great time to check your smoke alarms and continue checking them every month. Here's why:
DID YOU KNOW THAT HAVING A WORKING SMOKE ALARM DOUBLES YOUR CHANCES OF SURVIVING A FIRE?
For the best protection, make sure there is a working smoke alarm on every level of your home, inside bedrooms, and near sleeping areas. Test smoke alarms every month and replace them every 10 years or when the battery is low.
HERE ARE A FEW MORE FIRE SAFETY TIPS:
Create and practice a fire escape plan. Create a home fire escape plan with two ways out of every room. Choose a place to meet outside that is a safe distance away from your home.
Practice a home fire drill at least twice a year. Practice a home fire drill with your family during the day and at night. Practice escaping in under two minutes. Sometimes that is all the time you will have to get out of the house safely.
If there is a fire, leave home immediately. If there is a lot of smoke, get low and crawl out of the house as quickly as possible. Call 911 after you are a safe distance away from your home.
Reminder: Smoke alarms don't last forever. They typically expire after 8-10 years. So if your alarm is more than 10 years old, it's time to install a new one.
Want more fire safety tips? We've got you covered. And enjoy the extra daylight from all your friends at Safe Kids.