You are here
Top Tips
5 Ways to Make Thanksgiving Cooking Safer for Your Family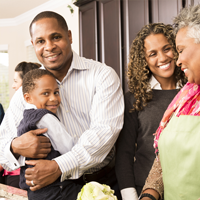 Thanksgiving prep in many households can seem like trying to set up a well-oiled machine with everything thought through to the very minute. There are Itemized lists of ingredients and essentials, scheduled trips to the grocery store for supplies and perfectly choreographed plans when dishes need to enter and exit ovens and stoves.
But, there is one more thing you should be preparing for this Thanksgiving: protecting your little ones around the kitchen. The combination of hot items, busy kitchens and limited attention spans could be a recipe for accidents and injury. But, in all the turmoil, there are steps you can take to avoid injuries in your home.
Here are 5 reminders to help you make Thanksgiving cooking safer for you and your family:
Avoid carrying or holding a child while cooking on the stove. Ask a visiting relative or family member to be the designated child wrangler and lead younger kids away from the kitchen to more fun activities.
Use the back burners of your stove and turn pot handles away from the edge. Thanksgiving tends to make you use every single cookware product you have in your house, but it is important to make sure that curious little hands don't have the ability to pull down any pots or pans from the stove.
Check to make sure appliance cords are coiled and away from counter edges. Those little curious hands again, but with all the blenders, mixers and food processors being used, countertop space can be limited and cords find their way close to the edge.
Take a minute to test your smoke alarms. Testing your smoke alarms is not just a great idea before embarking on a cooking adventure (which it is), but something that you should regularly do for the safety of your family.
Teach your kids how to cook safely. Thanksgiving is first and foremost a day for family and coming together. Use the time to explain and model safety cooking lessons for your children. It is a great start to a long life of making safe decisions in the kitchen.
Download these tips and more on our Cooking Safety Parent Checklist
We hope you have a happy and safe Thanksgiving!