Boy George Earns Spot in the Final Four of The New Celebrity Apprentice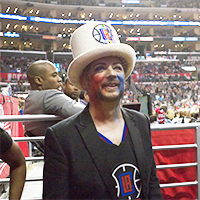 "Welcome back, Boy George."
Those were the words that kicked off last night's episode of The New Celebrity Apprentice. And it didn't take long for our Ambassador, Boy George, to return to his winning ways.
Last night's competition was intense as only seven contestants remained. Tasked with firing up Clipper Nation (the fans of the Los Angeles Clippers) during a live basketball game, Boy George once again called on his exceptional songwriting talent and his ability to connect with a crowd. His instant classic, "Rise Up Clipper Nation," brought the capacity crowd of 15,000 to their feet. Even Clippers owner Steve Ballmer couldn't resist singing, "Rise, Rise, Clipper Nation," when he awarded Team Prima the victory in the boardroom. Congratulations to Project Manager Lisa Leslie and her charity, the Semper Fi Fund.
Boy George did his best to lift Team Prima in the second task by sharing his personal fitness story on QVC in an attempt to sell more exercise equipment than Team Arete. Boy George lost 94 pounds through healthy eating and exercise. Ultimately, Team Prima's DoubleFlex Total Body Gym couldn't outsell Team Arete's Obsidian Slide Board, and Boy George's team came up short for only the third time in nine tasks. Not too bad! Congratulations to Brooke Burke-Charvet and her charity, Operation Smile.
By the end of the episode, only Boy George and three other contestants remained, setting the stage for a thrilling final two episodes. If Boy George is the ultimate winner, Safe Kids will receive $250,000 to help us protect kids at home, on the road and at play. So we'll be rooting extra hard for Boy George as continues his quest to become The New Celebrity Apprentice.