Gearing up for National Bike Month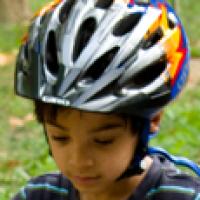 I still remember getting my first bike. It was a lovely fall day, and I was celebrating my 5th birthday at the local park when my parents wheeled it over. And it was beautiful – a light pink frame and white tires with a white basket on the front adorned with purple, blue and yellow daisies, and shimmering multicolored streamers flowing from the handlebars.
I also remember learning to ride that bike. It was an adventure that left me with a few scrapes and bruises, but it also led to many more fun and exciting adventures as I grew up. So I am excited to celebrate National Bike Month in May, which highlights the benefits of bicycling and encourages those who don't ride already to get started.
At Safe Kids we know there are many great reasons to ride your bike – it offers fun, freedom and exercise, and it's good for the environment – and we encourage kids and families to ride as much as possible.
It's also important to think about how to stay safe. Did you know that more children ages 5 to 14 are seen in emergency rooms for injuries related to biking than any other sport? However, those injuries don't have to happen.
During National Bike Month, help us spread the word about bike safety by talking with your children and sharing the following simple tips to keep bike riding safe and fun.
We have a simple saying: "Use your head, wear a helmet." It is the single most effective safety device available to reduce head injury and death from bicycle crashes. Watch: How to fit your child's bike helmet in three easy steps.
Tell your kids to ride on the right side of the road, with traffic, not against it. Stay as far to the right as possible. Use appropriate hand signals and respect traffic signals, stopping at all stop signs and stoplights.
Teach your kids to make eye contact with drivers. Bikers should make sure drivers are paying attention and are going to stop before they cross the street.
When riding at dusk, dawn or in the evening, be bright and use lights – and make sure your bike has reflectors as well. It's also smart to wear clothes and accessories that have retro-reflective materials to improve biker visibility to motorists.
Actively supervise children until you're comfortable that they are responsible to ride on their own.
See our full list of bike safety tips
Coming Up: Bike to School Day will be celebrated on May 7 in hundreds of communities across the United States as part of National Bike Month. All events will promote biking to school as a safe and fun method of transportation, while highlighting important bike safety information, like wearing a helmet. Find an event in your community.