Take Your Wheels for a Ride on Bike to School Day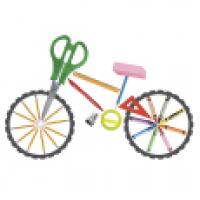 Have you ever seen a bike train? Picture lots of excited little kids perched on bicycles, scooters, skateboards and anything else with wheels, anxiously awaiting a signal from a parent or teacher to start pedaling and rolling to school.
On Wednesday, May 8, these bike trains will be in full force at more than 150 events throughout the country as students, parents and educators join together to raise awareness about bike safety on the second annual National Bike to School Day.
Unfortunately, more kids ages 5 to 14 are seen in emergency rooms for injuries related to biking than any other sport. Each year, 112 children die from bicycle-related injuries and more than 289,000 nonfatal bicycle injuries occur.
The main reason: most kids don't wear a helmet while riding a bike.
Kids like eight year-old Shae Crawford from Andover, Minnesota are living proof that helmets save lives.
Last year, Shae was riding his bike when one of his wheels got caught on a bike ramp that he and his friends made in the park. Shae crashed hard and his bike fell on top of him, but instead of suffering more severe injuries, he walked away with a broken nose, a lacerated lip and some scrapes and bruises. Doctors say Shae's bike helmet saved his life.
To help other kids such as Shae stay safe while riding a bike, Safe Kids is working with Easton-Bell Sports to teach kids important tips, like always wear a helmet.
When worn correctly, helmets can reduce the risk of severe brain injuries by 88 percent – yet the majority of kids don't wear them. National Bike to School Day is a great time to encourage all kids to wear a helmet and promote biking as a safe and fun way to get to school.
Here Are a Few Tips to Help Families and Kids Pick the Right Helmet and Make Sure it Fits Properly
For the best protection, a helmet should fit on top of the head in a level position, with straps buckled and without rocking forward, backward or side-to-side.
Safe Kids recommends kids take the Helmet Fit Test
EYES check: Position the helmet on your head. Look up and you should see the bottom rim of the helmet. The rim should be one to two finger-widths above the eyebrows.
EARS check: Make sure the straps of the helmet form a "V" under your ears when buckled. The strap should be snug but comfortable.
MOUTH check: Open your mouth as wide as you can. Do you feel the helmet hug your head? If not, tighten those straps and make sure the buckle is flat against your skin.
Here are a few more simple tips to keep kids and families safe while biking.
Jen Pollakusky is a media manager for Safe Kids Worldwide, based in Washington, D.C.