How to Make the Last Winter Hurrah Fun and Safe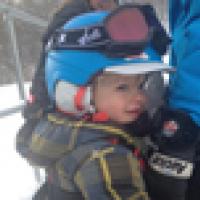 It seems like February is the month when the winter season makes its one last "hurrah," giving us all one more chance to get out that sled, pair of ice skates, skis or snowshoes and just be a kid again.
Of course, in some parts of the country, like New York, where most of my family resides, it can seem like winter is an almost year-round season. In fact,I went home for the birth of my niece, Charlotte, last spring, and on the day she was born - April 23 - sure enough, it snowed. And not just a few cute snowflakes, it was almost whiteout conditions. Keep in mind, this was two weeks after Easter, folks. It was great, however, to see all those kids and kids-at-heart outside, playing in the snow, if only to be able to say "I made a snow angel in April" or "I went sledding in the springtime."
I believe winter, and everything that comes with it, is certainly a special, sacred time. But there are also some risks and hidden dangers that we think parents need to be aware of. Some of our most treasured winter sports usher way too many kids into the emergency room. For example, in 2009, more than 26,000 injuries were sustained by children ages 14 and under involving skiing, snowboarding or snowmobiles and more than 25,000 children are treated in emergency departments for sledding-related injuries each year.
Injuries during winter sports and activities are bound to happen. Kids love to push their limits and the last thing we want to do is take the fun out of play. But there is nothing less fun than not being able to play because of an injury—and a preventable one at that. That's why it's important to understand a few of the tips that can help.
Things like sending your kids outside in the cold with proper gear such as helmets when they're skiing, snowboarding or playing ice hockey (in fact, helmets have been shown to reduce the risk of concussion, particularly in sports such as football, skiing and snowboarding). We can also remind our kids to stay properly hydrated (compared to adults, children are at increased risk of dehydration—and yes, it can and does happen even in cold temperatures).
Being smart about safety in wintertime also means having proper, warm clothing and sunscreen. It's a good idea to have your kid come indoors periodically to prevent hypothermia or frostbite (hey, you can bait them with hot chocolate and cinnamon toast).
These are just a few late-winter season reminders to keep your kids happy and healthy while frolicking in the snow. And if you're anything like me, my niece, Charlotte, or her big brother, Keegan, who can't get enough of the wintery weather, may I wish you plenty of snow angels in February and beyond.
Learn more about sports safety