Written by former CEO & President, Kate Carr.
Last month we paid tribute to our moms by sharing some wonderful memories. Well, dads, now it's your turn.
I think my dad is a superhero, even at age 85. Growing up, I thought he was the smartest, most handsome father and I always felt so proud of him and what he did.
My dad worked as an enforcement agent for the U.S. Treasury Department. It meant long hours and sometimes travel away from our family. He had to work hard to support our family of eight kids, mom and great-grandmother. But that didn't limit the fun at home.
Whether it was singing Patsy Cline songs, teaching me to drive (it was traumatic for both of us), cooking a big breakfast for everyone on Sunday mornings or starting the garden in the springtime, my dad did it all with grace and style. And of course, he still has the best smile and kindest heart.
Love you, Dad. Happy Father's Day to you and all the other superhero fathers out there.
In our newsletter, An Ounce of Prevention, we asked our friends to pay tribute to their dads by sending us a favorite childhood memory.
Here are a few of your responses:
Andrea T.
My dad was the greatest guy around. Everybody loved him. He had a corny (English) sense of humor and always wore the "loudest" shirts he could find! (The brightest and wildest Hawaiian shirts you can think of.) During my senior year of high school, when most teens prefer to sleep the morning away, my dad would wake me up around 7 a.m. every Sunday to go out for breakfast. Just me and Dad.
Two of my favorite memories: driving up to the lake early on Saturday mornings (when I was school age), before the sun even came up, to go fishing. During the drive, he would give me "spelling bees" – I would spell words I had never heard before; and making up new verses to Christmas carols. We made up different "color" verses to "White Christmas", for example: "May your days be merry, I think. And may all your Christmases be pink." Or "May your days be merry in jail. And may all your Christmases be pale." And "May your days be merry in bed. And may all your Christmases be red." (Those are the only verses I can remember – 30+ years later!)
My dad never got to meet his only grandchild – my daughter. They would have been two peas in a pod! Happy Father's Day, Dad! I love you and miss you!!
~
Carlos F.
My dad is a purple heart Marine. In 1950, he was injured in combat during the Korean War. Because of this, and his multiple stories told to me as a child, I knew he was a courageous and brave man who consistently displayed a strong work ethic and integrity. But one night in 1971, when I was 12 years old, I witnessed firsthand his bravery in the face of danger.
It was December 24th, Christmas Eve, 1971. My dad worked a second job for over 35 years as a night clerk at a small neighborhood store in Fresno, Calif. These were the days before convenience stores became popular. I would often spend time with my dad helping out around the store in the evenings, stocking, sweeping, and generally doing odd jobs just to spend time with him. I would often follow him behind the counter to bag customers' purchases. On this particular Christmas Eve, we had a man come in just before closing. He was armed with a .38 caliber handgun, which he pointed at my dad while demanding money from the register. As I normally did with customers, I began to follow my dad around the counter at which point the robber pointed the gun at me and yelled "freeze!" Which of course I did.
Seeing the barrel of the gun facing me is still a vivid image in my mind over 40 years later. When this happened, my dad became very angry with the robber and began yelling at him, deflecting attention, and the weapon, away from me and towards himself. With the gun just inches from my dad's chest, he continued to berate this thug while throwing money down on the counter forcing this guy to forget about the kid in the corner.
The robber scooped up the few bills my dad gave him and he ran out of the store. My dad is small in stature, no bigger than 5'5", but that night, in a small store on a darkened corner in town, he displayed the courage of a soldier and the protectiveness of a father.
~
Kristina P.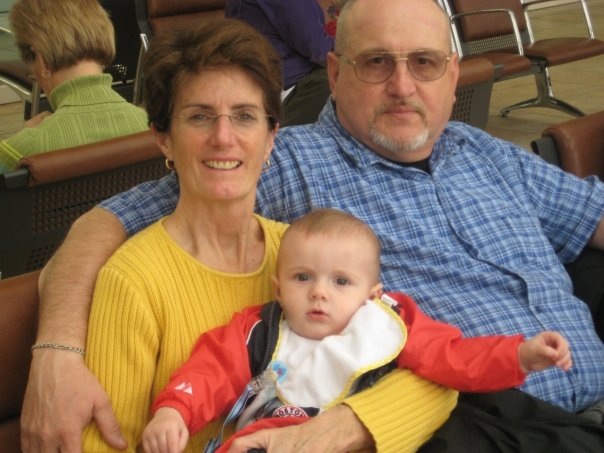 My dad, Lynn Shindel, was a hardworking man, often working his full-time job and a side job to provide for the needs of our family. He is a proud American and taught my brother and I the value in loving your country and being respectful to those who have served it, whether it be active military or those who are veterans. In the midst of all of that, he managed to volunteer with our local fire department and local ambulance services. I grew up in a very rural area, so access to many of those emergency services was essential and was performed by those who volunteered to do them. The expectation to provide quality care is the same whether you are paid or on a volunteer service so much of my dad's "free" time was spent in classes learning how to be a better firefighter and EMT. I can remember sitting in fire trucks while he and his colleagues tried to save lives and property. I know it is because of his love of service to others and service to community that I became an emergency room nurse. One of my earliest memories of my dad was him teaching my brother and me CPR at home. He had the CPR dummy family in suitcases and he would pull them out to show us how to use them. My dad is a great father and grandfather and deserves to be recognized this Father's Day.
~
Kay T.
As a young child of seven our family of four moved from a small community in northern New York to an even smaller community in 1945. My father purchased a 72-acre farm on a dirt cross road. This home had no electricity or running water, as our previous home had. We were now using an ice-box, lamps, lanterns (in the barn), pumping our water with a hand pump in the well house. And yes, we had an outhouse. We now drank from a dipper in a pail and washed our hands in a basin.
There were always a lot of family and friends staying over, for years on end. They seemed to love the farm as did I. We eventually got electricity about three years later, however, it was the times without it that were most memorable.
Mom took on many of the barn chores with a little help from us girls.
My father had obtained work at the General Ice Cream Plant in North Lawrence, N.Y., and ice cream was available to him at the plant. There was one problem though: An ice-box wouldn't keep ice cream for very long and dad worked the night shift so we'd all be asleep when he arrived home at 2 o'clock in the morning. However, when he arrived home at 2 o'clock in the morning he would get out a sharp knife, cut each half pint he'd purchased in two, stick a spoon in it and deliver it to the bedside of each sleepy-head in the house.
To this day, every child who stayed with us during the three-year period before getting electricity remembers being awakened at 2 o'clock in the morning to eat ice cream out of a box in bed.
My dad was the greatest in my eyes. He and my mom gave a lot of people a home and never asked for a penny.
~
Rene H.
I was always daddy girl – so when I locked him out of the house he was shocked. OK let me explain.
Dad worked in the motion picture industry as a key grip. His job had him traveling a lot, and for this particular job he not only worked as a key grip but was also in the film he was working on: A film some of you over the age of 50 may have heard of – Midnight Cowboy with Dustin Hoffman and John Vaught. My dad was the bus driver in the famous death scene. Anyway, for this role he had to shave off his beard and mustache. On the day he was due home from work after being gone for a few weeks filming he rang the doorbell (he never traveled with the house keys to be sure we were safe). I was so excited I ran to the door (I was about 7). I opened the door and, seeing a man who was not my father – I had NEVER see my dad clean shaven before – I promptly shut and locked the door calling for my mom that there was some man I did not know at the door. He started to regrow the beard and mustache!
~
Vanessa J.
I thank my father for bringing me up in this world. My father had 10 kids and worked very hard to provide for us. I remember when I was 8 years old, I used to leave a note in the bathroom the night before and ask him to leave me 25 cents on the bathroom sink. My father used to make me laugh!! He used to talk about when he was a little boy, he used to work to take care of him, mother and help support other family members. My father passed away when he was 59 years old, but these memories are still fresh in my mind! One thing I can say about my dad is he was the greatest father I ever had.
~
Karen G.
I remember when we would go on a family vacation with my dad and he would pile all five of us into that big old station wagon. You know, the one with the rear seat facing the wrong direction. If you opened the back window the exhaust fumes get sucked into the car and everyone in the car is on the verge of death from carbon monoxide poisoning. This is back when a vacation was going to grandma and granddaddy long legs' house, in North Carolina. My dad loved to fish and laugh. When he relocated to South Carolina, he asked me to come with. I told him I could not leave my good government job; his reply was, "Girl there is a McDonald's, Burger King, Food Lion and other great places to work." He wanted to take me with him. He was the Best Dad in the World.
~
Jorge M.
No tengo demasiados buenos recuerdos de mi padre, pero lo amo incondicionalmente. El no tuvo educación, pero trató de darnos lo mejor de él. Trabajó toda su vida en la fábrica, y nos envió a todos mis hermanos y a mí a la escuela para que pudiéramos estudiar y tener un mejor futuro. Él siempre fue muy serio y estricto, y nos enseñó a todos y cada uno de mis hermanos el sentido de trabajar y ser responsables en todas nuestras actividades.
Siempre lo recordaré y honraré por todo lo que hizo por nosotros, pero en especial por las pocas veces que nos cocinó los fines de semana mientras mi madre trabajaba lavando ropa en las casas de otra gente. Él nos reunía, a mis cuatro hermanos, tres hermanas y a mí, alrededor de la cocina, nos hacia una salsa, calentaba tortillas y nos iba preguntando y cocinando a cada uno de nosotros cómo queríamos que nos cocinara un par de huevos. Era todo lo que nos podía cocinar, un par de huevos, pero nos sabían al mejor platillo del mundo, con un sabor tan especial que jamás he encontrado en ningún otro lugar o platillo, sólo en él y en ese momento porque fue hecho por sus manos especialmente para nosotros.

Esto fue muy especial en nosotros porque en aquellos tiempos y en nuestra cultura, los hombres no tienen nada que ver con la cocina.
Amo a mi padre, y siempre lo amaré y estaré agradecido por todo lo que hizo por nosotros.
Translation
I don´t have too many good memories of my father, but I love him unconditionally. He had no education, but tried to give us the best of him. He worked all his life in the factory, and sent all my brothers and me to school so we could study and have a better future. He was always very serious and strict, and taught each and every one of us the meaning of work and being responsible in all our activities.
I´ll always remember and honor him for what he did for us, but especially for the few times he cooked for us on weekends while my mother worked washing clothes in the homes of other people. He invited us, my four brothers, three sisters and me, around the kitchen, and he made a sauce, warmed tortillas and he started cooking. He would ask each one of us how we wanted him to cook our eggs. It was all he could cook for us, a couple of eggs, but they tasted like the best dish in the world, with a flavor more special than I have encountered in any other place or dish, just by him and at that moment because it was done by his hands especially for us.
This was very special for us because at that time and in our culture, men have nothing to do with the kitchen.
I love my father, and always will love him and be grateful for everything you did for us.
~
Jamie B.
Although my dad is no longer with us, his influence on me is apparent every day. My dad was a lover of life. He was a veteran, a patriot, an avid reader, and one of the smartest people I know. My favorite memory of him involves a HUGE dictionary that we had in our home. My siblings and I would try to stump him by reading the definition of a word to him, and having him guess the word. No matter how hard the word, he always got it! I also love words, as well as my family, my friends, my country, and my community. Thank you, Dad, for instilling these values in me. I miss you every day.
~
Joanie B.
One of the most fondly remembered memories of my dad was in the fall, after milking and chores in the evening, mom and dad would be outside with us kids (seven in all) and play in the leaves. We would make a leaf house, complete with doors you opened and shut with the rakes. Dad would ask formally if he might enter our "castle." There was always much giggling, and it ended with all of us rolling in the leaves, messing up the house. In later life, Dad made comments about missing those fun-filled evenings with us as little kids. He said sometimes he was bone tired and we would beg him to play with us, and after a couple of hours he forgot how tired and achy he really was. He has been gone since 1999, but in the fall, with a yard full of leaves, those memories of my dad come bounding back.