Un-buckled Road Deaths Inspire Governor to Consider Tougher Seat Belt Law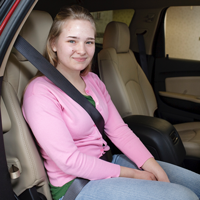 In a week's time in early August, eight people died in car crashes on Vermont roads. Seven of them were not wearing a seat belt that could have saved their lives. These tragedies have inspired Vermont Governor Phil Scott to reconsider his position against a new law that would allow for primary enforcement of seatbelt use. Once Gov. Scott demonstrated an open mind, Safe Kids Worldwide brought together other safety organizations, including the National Safety Council, Advocates for Highway and Auto Safety and the FIA Foundation--#SaveKidsLives to encourage the governor to exercise his leadership in favor of legislation to make Vermont's car seat law primary.
Why is a Primary Enforcement Law So Important?
A secondary enforcement law means that a police officer can only give a ticket to a driver who is violating another Vermont motor vehicle law. This prevents the law enforcement community from enforcing what is already the law in the state. Today, Vermont is out of step with most of its New England neighbors. Maine, Connecticut and Rhode Island are among the large majority of the states to have a primary seat belt law.
What are the Implications of a Weaker Law?
The implications are significant. As we informed Gov. Scott sent in 2015, Rhode Island had one of the lowest motor vehicle crash death rates in the country with 3.5 occupant deaths per 100,000 people. In the same year, Vermont's crash death rate was more than double that at 7.7 occupant deaths per 100,000 people. The use of safety belts follows this trend. The National Highway Traffic Safety Administration reports that seat belt usage in Vermont is 80 percent, 12 percent below the national average of states with primary enforcement laws. And wearing a seat belt can reduce one's chance of dying in a car crash by 45 percent and of serious injury by 50 percent.
Human Face of Weak Vermont Law
Not buckling up can be the difference between life and death. In November 2015, Christina Deslandes was driving her 3-year-old son Bentley to a farm to pick berries near Brighton, Vt. The car crashed into a utility pole and Bentley died in the hospital of blunt head and neck trauma. Christina, who survived, was not wearing a seat belt. Bentley was not in a car seat and he was sitting in the front seat of the car. A properly used car seat, which can reduce the risk of death by 71 percent, could have saved Bentley's life.
Data Agrees
Looking at 2015 data, there's a direct correlation between parental and child occupant protection—an unrestrained parent is 66 percent more likely to be driving an unrestrained child. In fatalities, when the driver was unrestrained, 66 percent of kids were also unrestrained.
Thank you, Gov. Scott, for considering ways to make Vermont roads and highways safer for Vermont kids.
---
If you agree that seat belts and car seats save lives, please think about sending a tweet or an email to the governor. Here's a sample:
Thanks for considering your support for a primary #OccupantProtection law, VT @GovPhilScott. Will make kids safer. http://bit.ly/2eHupBq